Some of the most unique, historic and beautiful row houses are located in charming Philadelphia, but they're also some of the oldest. The median age of a regular home in the U.S. is 37, yet the median age of a row house in Philadelphia is 93, according to The American Community Survey.
It's no surprise that so many Philadelphians are looking to update their residences.

Today's housing must meet modern energy-efficiency standards. If your home was built in the 19th century, there are lots of ways you can keep the historic charm while saving energy and money.
While this guide discusses different home renovation projects that can achieve these goals, many people choose to save time and energy by tackling several projects all in one with a major home remodel. Your choice may depend on your family's needs and the home itself.
Each and every row house is different, from size, to style, to renovation considerations and local city guidelines. Let's see what kind of row house you live in and what you need to keep in mind if you're considering a remodel.
What is a rowhouse?
A rowhouse is defined as a one to four-story house occupying a narrow street frontage and attached to adjacent houses on both sides.
Historical fact
By the nineteenth century, the term "Philadelphia row" became a phrase used to describe the orderly rows of houses. Constructing houses in a row was cost-effective and efficient for builders, since they could replicate designs and buy materials in bulk.
Renovating Yourself vs. Hiring Professionals
During home renovations, especially when remodeling historic Philadelphia row homes, it's important to understand your limitations and when it's best to call on the help of contractors.
Projects you can do yourself:
Painting
Looking out for any water staining on walls
Cleaning gutters regularly to make sure they drain properly, and looking for signs of clogged gutters or downspouts
Checking for adequate ventilation in all rooms to keep air circulating, and looking for signs of mildew
Testing grounded outlets regularly
Projects for professionals:
Masonry cleaning and repair
Structural repairs
Floor refinishing
Any electrical or plumbing problems
Repair cracks in sidewalks and steps
Call PECO to trim trees that are touching electrical wires: 1-800-494-4000
Whether you live in a Queen Anne, Gothic Revival or Victorian style row house, there are easy ways to preserve your home's unique style through renovating while also ensuring your home is safe and comfortable.
You can start your Philadelphia row house renovation today with the help of a RenoFi Loan, which will let you borrow based on the value of your home after the renovation.
Philadelphia row home styles poster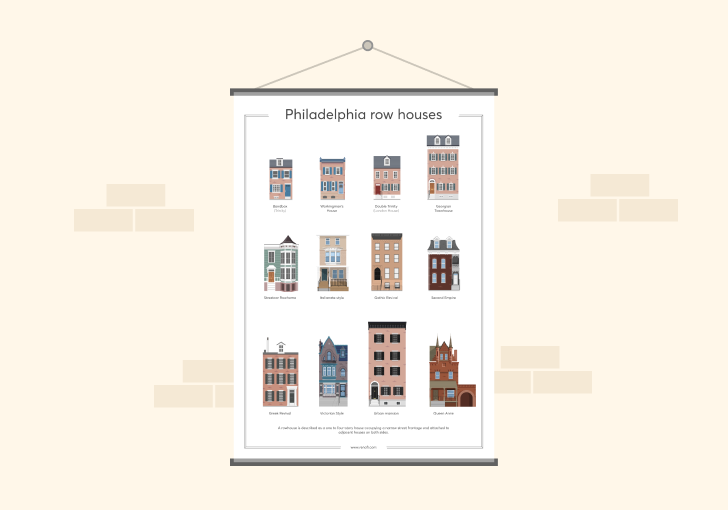 Hang a little Philadelphian history on your wall at home.
Download the poster
Philadelphia rowhouse poster PDF
Renovating your row home infographic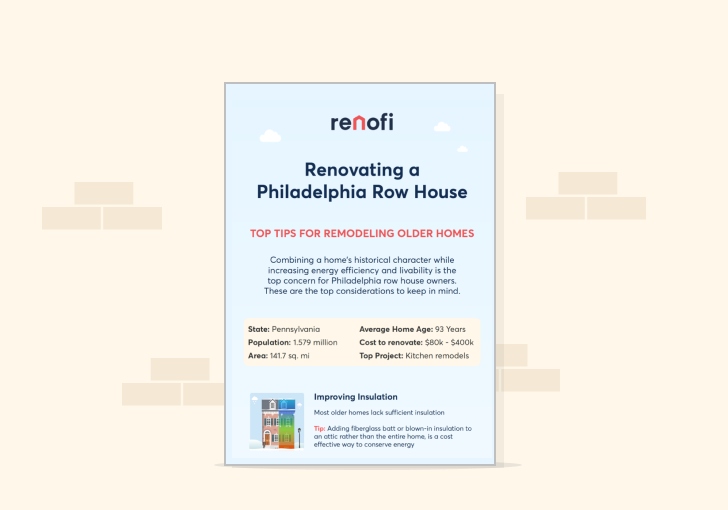 Top remodeling tips to preserve your unique property.
Download the infographic
Philadelphia rowhouse infographic PDF
If you're thinking about smaller renovation projects for your row home but secretly dreaming of a major remodel, see if a RenoFi Loan can help.
Types of Philadelphia Row Houses by Location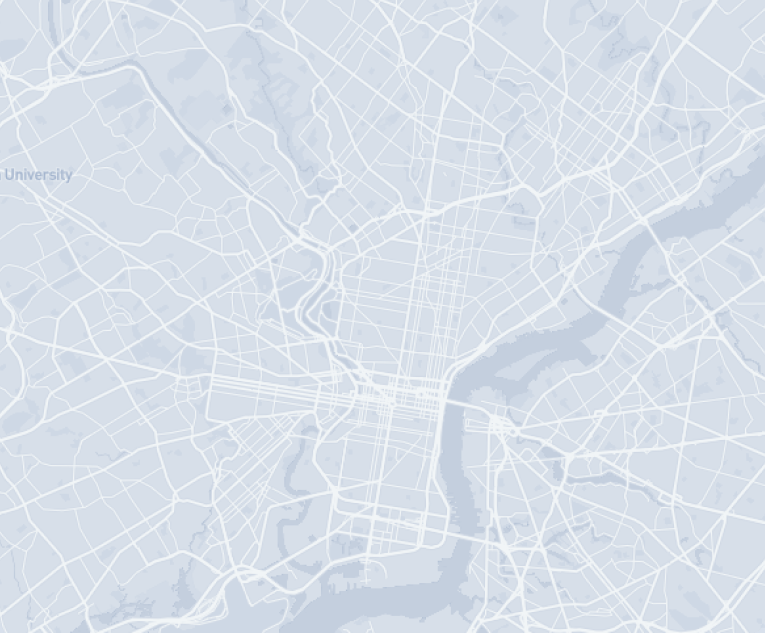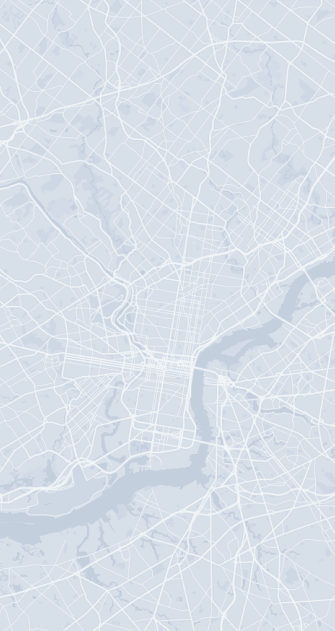 What Are the Main Considerations When Renovating a Row House?
Improving insulation
Most rowhomes were built with minimal insulation. You may notice that your attic or third floor is particularly susceptible to the climate outside.

Older homes can (thankfully) be retrofitted to add insulation to the roof and exterior walls to keep cold (or warm) inside, which will hopefully help you save on your energy bill. This $230,000 row house remodeling project not only added insulation, but it also completely transformed the living space for a local family.

One popular method is adding fiberglass batt or blown-in insulation to a rowhouse attic to conserve energy. Instead of insulating the entire home with a more complex and expensive project, just focusing on the attic is a great way to make a difference without breaking the bank. However, if you're trying to tackle a larger renovation wish list, it might make more financial sense to insulate your entire home while you're at it. This project costs between $1,500 and $10,000, according to Angi.

An important issue that could be causing poor insulation is air movement. Make sure that areas around your windows and doors are properly sealed.
PECO offers low cost energy assessments, virtually and in person, where an expert will assess your electricity, insulation and several other factors.
After, they'll give you many different options for how to improve energy efficiency, from quick fixes to larger projects. For less than $80, this is a great place to start for improving insulation.
If you're looking at this route, be sure to consult with a professional first, as the added weight of soil and water may be too heavy for your roof structure.
What is fiberglass batt or blown-in insulation?
Fiberglass batt insulation is often the cheapest and easiest way to insulate your home. It's naturally fire retardant, as well as energy efficient.
Estimated cost
$0.64 and $1.19 per square foot.
Roof & Downspout
The roof itself is another differentiating factor between today's modern homes and a historic Philadelphia row home.

In fact, many row house roofs appear "flat" although they actually do gently slope to the downspout, whereas more modern roofs are curved.

There are four main types of roofs you could find on your Philadelphia row house are asphalt shingles, rubber roofs, pure silicone white roofs, and granulated roofs.

While asphalt shingles are the most common roofing material, most row houses are flat and therefore work better with rubber and silicone materials.

If you're looking to replace your roof, consider white silicone coating, as it's the most cost-effective option. Because it's white, they'll attract less sunlight than a black roof and help you save on energy costs as well.

In terms of your downspout, many sections of Philadelphia including Center City, South Philadelphia, West Philadelphia, North Philadelphia, Bridesburg/Kensington/Richmond, East Mt. Airy and East Germantown, as well as parts of near Northeast Philadelphia have combined stormwater and sewer systems.

This means that when it rains hard, the sewers can fill up and send sewage overflow into the rivers, causing pollution.

There are several projects you can complete that can help hold rainwater on your property, relieve pressure on the sewer system, and improve the river's water quality.

Keeping water out of your rowhouse is also generally an important way to ensure its longevity, and the roof is your first line of defense.
If you're having trouble with water buildup during storms or want to reduce water pollution, consider these solutions:
Reduce hard surfaces that don't absorb water
Plant native trees and plants
Use permeable paving for new patio projects
Install a downspout planter to collect water
Install a rain barrel to collect rain water and water plants
How to reduce sewage overflow
To learn more about how to reduce sewage overflow - check out the guide below to "greening your home" from phila.gov.
Useful guide
Roof Decks
Roof decks are popular amenities in Philadelphia since many row houses have small yards surrounded by buildings, but they also offer some challenges in terms of local rules and regulations.

You'll need to work with your contractor to create a plan that works within the city zoning constraints. Make sure your contractor is familiar with these rules and has completed a similar project already.

Check with the Department of Licenses and Inspections early on in the planning process. Philadelphia building code states that roof decks must be set back at least five ft. from the extreme front building line (closest to the front lot line). Also, fences or guard rails used to enclose roof decks may not exceed 42 inches in height.

Some things to note on regulations are height, strength, size and railings.

You should make sure to check with the Department of Licenses and Inspections early on in the planning process.

Philadelphia building code states that roof decks must be set back at least five ft. from the extreme front building line (closest to the front lot line).

Also, fences or guardrails used to enclose roof decks may not exceed 42 in. in height.


Interior Design
Staircases
Many row houses feature gracefully curving staircases as a focal point in the home. While it is valuable to maintain and restore these original stairways, safety is also an important consideration.

Row houses often have very steep staircases to minimize space. Many have stairs called "winders," which are spiral staircases that radiate around a point, but it is easy to lose one's footing on a particularly narrow tread.

If you're looking to keep your winders without falling down the stairs, you can consider adding a firmer railing, non-slip strips, or brighter lighting.

And always be sure to repair and replace any loose, broken, and uneven tread or wobbly railing, especially if you're planning on selling the home in the near future.
Heating, Cooling, and Plumbing
Heating
Most row houses are heated by a boiler or a furnace that is fueled by natural gas or home heating oil. Tankless or on-demand water heaters are becoming popular, but they require a proper gas line and venting.

The best way to see what system you have is to check the label and Google the model number and brand name (duh!).

If you have central heating through a furnace, which can be powered by electricity, natural gas, or fuel oil, you should also be regularly changing your furnace filters.
In general, this is how often changing furnace filters needs to be done:
| Filter Size | Replacement Schedule |
| --- | --- |
| 1 to 2 inch | Every 1 to 3 months |
| 3 to 4 inch | Every 6 to 9 months |
| 5 to 6 inch | Every 9 to 12 months |
If you instead have hot-water or boiler heating, focus on pipe and heater insulation.
Cooling
In Philly rowhomes, it's common that your AC won't fully travel up to the third level. If you have any family members sleeping or working on the third floor - an AC unit is a great solution, or a ceiling fan.

Just make sure to properly secure that Window AC unit so it doesn't fall out the other side!
Plumbing
In terms of plumbing, lead piping should always be replaced if you find it.

The Philadelphia Water Department estimates that about 20,000 homes in the city have lead service lines, the pipes that connect the homes to the water mains.

Unfortunately, the city will not pay to replace lead pipes, but they will send someone to come do a water check if you call and schedule an appointment.

If you're looking at this route, be sure to consult with a professional first, as the added weight of soil and water may be too heavy for your roof structure.

For replacing any interior plumbing, the Philadelphia Plumbing Code allows new supply lines to be made of reinforced plastic piping, but most plumbers will likely recommend copper piping.

While renovating, know where the shut-off valves are located and always be on the lookout for any signs of leaks or clogs.
Unsure if your home has a lead service line?
And worried about potential contamination, there's a simple way you can test this yourself.
Simple self test
Electricity & Energy Savings
Because they are long and narrow, row homes can get dark. You may not get a lot of window light in the interior areas of your home.

Before moving in, we recommend adding lamps and avoiding darker colors for your walls if you're concerned.

Many older row homes have a low capacity electric service. If you plan to increase the electrical load when renovating, consult an electrician and PECO.

Depending on the age of your row house, it could have one of several different types of wiring: knob and tube, rag wire or sheathed cable, non-metallic or NM, aluminum wiring, or newer Romex.

Most electricians today consider knob and tube wiring to be unsafe, and will recommend updating to Romex. To learn more about each of these types of wiring, see this guide.

Often older homes are less electricity efficient, sbut that doesn't mean you can't take these easy steps to help!
Energy Saving Tips
Upgrade to a thermostat with a timer, so you can lower the heat while away at work, and turn the heat back up to normal when you return.
Replace incandescent bulbs with longer-lasting, compact fluorescent bulbs.
Feel for drafts and caulk any cracks or replace weather stripping.
Look for Energy Star ratings to choose efficient appliances.
When Do I Need A Permit for Remodeling a Row House?


For most minor projects, you won't need a building permit. In Philadelphia, a building permit is only required for new construction, additions, demolitions, as well as some alterations and repairs.
Contractors can obtain a permit if they are licensed by the city, and if you are working with a contractor, they'll be the ones to facilitate this process.
If alterations exceed $10,000, drawings of proposed construction and additions must be submitted with the stamp of a licensed architect or engineer.
Read the RenoFi guide to permitting in Philadelphia if you want to learn more about this aspect of the renovation.
Maintaining the Row Home's Exterior
Masonry
Consider removing paint on exterior masonry which can trap moisture. But remove paint very carefully to preserve the original appearance.
One method to remove paint is using a combination of heat and abrasion. You can use a hot air gun to melt the paint and then sand down the paint to fully remove it.
Experts recommend avoiding pressure washing and blow torches as they may be too harsh on your home.
While you don't necessarily have to remove exterior paint to repaint, it can save money on patch-jobs and repainting in the future, especially if you're already experiencing cracking and flaking. Always start by checking masonry, joints, and paint for signs of cracking and peeling.
Many 19th century row homes have thin mortar joints called butter joints, which if deteriorated must be removed and replaced by hand.
Depending on your home's exterior material, there are different methods you can and should use if you're looking for an update.
If you have a Brownstone, it should be replaced with matching stone, not patched with stucco.
If your row home features granite, marble, or serpentine, consult with a mason about the best way to restore your stone facade. But remember: covering a masonry wall with any type of material requires a building permit.
Porches
If your home has an older porch, chances are, temperature fluctuations and erosion may cause old porch foundations to shift independently from the rest of the house.
Hire a contractor to shore up the foundations and recommend appropriate ways of restoring the porch columns. If you notice that your porch wood is rotting, it may be best to go for a full porch replacement. Make sure any porch or veranda projects aren't beyond the street line, per Philadelphia zoning regulations.
Windows
It is worthwhile to save historic Philadelphia windows if possible. Many windows can be restored to their original condition and operate well. Historic windows are not hard to repair and can last for centuries.
If you're concerned the windows are contributing to poor insulation, consider upgrading from single-glazed to insulated glass.
Insulating glass (IG) consists of two or more glass window panes separated by a vacuum or gas-filled space to reduce heat transfer. This is a way to keep your home cooler in the summer and warmer in the winter.
Storm windows also reduce drafts and have insulating value, while improving the energy efficiency of historic buildings with original single-pane windows.
Maintaining the Row Home's Interior


While it's becoming more and more popular to gut and replace when it comes to renovating, choosing to restore, repair and update is not only more sustainable, it's also more cost efficient.
By learning more about your home's interior and completing regular maintenance, you'll be able to preserve your home's unique history and save money on renovating.

Hardwood flooring
Hardwood flooring is the most common finish material found in the rowhouse, and it should be repaired and refinished rather than replaced to maintain its original character.
In general, it will almost always be less expensive to refinish your floors than replace them. Hardwood is meant to last a long time, and there's really no need to replace a floor unless there's serious damage.
Interior doors
The same thing goes for your interior doors. Interior doors were often made with panels in ornate patterns, so it is valuable to refinish and reuse old doors, rather than replace them. You should use solid brass hardware for any fixtures to make sure they last a long time.
Keeping your space in good shape
There are lots of things you can do as a Philly homeowner to keep your space in good shape.
Tips
Maintain all appliances, furnaces, water heaters, air conditioners, etc. as described in the owner's manuals.
Replace any gasketing that is not sealing properly, and watch for water stains on all surfaces.
Kitchen, Bedroom, and Bathroom
Kitchen Lots of homeowners have kitchen renovations first on their wish list. Whether the area is too small, the appliances are too old, or you're just looking to update - you should always take measurements before replacing anything - especially your door frames.
Why? They may be slightly smaller in your historic rowhome than a modern space. Before you buy that new fridge, you want to make sure you can actually get it into your house and into the kitchen, and that it fits in your space.
Thankfully, most manufacturers will have lots of size options so you can pick out appliances that still fit your needs while also actually being able to get in your house and up the stairs.
Bedroom In terms of bedrooms, older homes don't frequently come with large closets, which may present a space issue for your wardrobe
During bedroom renovations, consider mounting two rods (one above the other) to hang clothing - or turning a small bedroom into a walk-in closet. You could also build custom shelving or drawers to reclaim more organizational space for clothing.
Bathroom Generally, classic white fixtures are popular in row home renovations, since they can remain in style longer despite changing color trends.
This will help you save money in the long run. Also, make sure that all surfaces are not porous - these types of materials are very difficult to maintain. Although they might look nice, porous materials may allow water penetration which may lead to staining.
Basements
Many row houses in Philadelphia come with unfinished basements, which can be havens for cracks and holes. When it comes to finishing the basement, make sure to remedy any structural problems as soon as possible.
Look for significant cracks, misalignments, and bulges.
Any townhomes in larger cities are prone to pests, so you'll want to seal up any openings before the summer season. Philadelphia has a longstanding history of cockroach infestations, and you'll want to make sure they can't get in through the basement.
If you notice groundwater problems in the basement, check for faulty outside drainage. In many cases if your backyard drain is clogged - it could be directing water to your basement area.
If you can't find the source of the water, contact a professional as soon as possible.
If you have unused toilets or sinks in the basement, it's a good idea to remove them so that overloaded sewers can't back up into them.
Even if your basement is sealed properly, it's normal that basements in Philly row houses will get moisture and humidity.
We recommend using a portable dehumidifier in the basement just to keep the area dry to avoid mildew.
While you may be most excited to create a new living space through a basement renovation, structural issues are the most important things to tackle in the long run.
Wall, Paint & Wallpaper
Many older homes have partitions made of plaster that may become loose and fall off over time. When repairing c racks and holes, it is best to preserve the older material and patch it with new plaster. Any new partitions you'd want to create are typically built with drywall.
If you're curious about what materials your home is made of, one test you can do is stick a pushpin into the wall. Drywall is softer than plaster, so a pushpin should be able to get in relatively easily.
Older homes may also have many layers of wallpaper under layers of paint. You should always remove any wallpaper carefully to preserve the wall - plaster can be incredibly delicate.
If you have vinyl wallpaper, you'll need to remove it with lots of hot water and scraping. This may be a job to contract out to your painter, as it's incredibly time consuming and labor intensive.
When removing older paint, it should be tested before being scraped off just to make sure it doesn't contain any traces of lead. Also - check for cracks and holes to repair and sand during your home renovation.
Start Your Renovation Now
Now that you're aware of the key components remodeling or renovating a row home, you're ready to take the next step. Click the Find a Lender button below to make your project happen now.
Get started on your renovation
9 tips for cutting costs on home renovations
Discover Categories
The most money and lowest monthly payment for your renovation
Borrow up to 90% of your future home value with a RenoFi Renovation Loan
WHAT IS YOUR PROJECT?
Renovating my current home